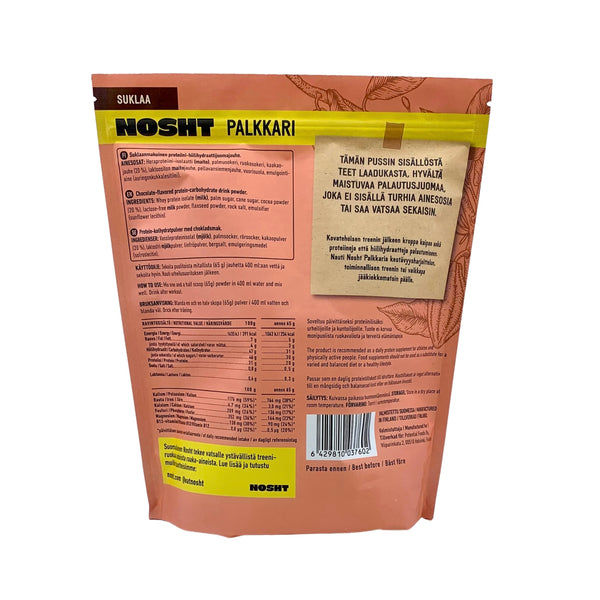 Nosht Recovery Drink Mix is a great-tasting recovery drink powder containing the proteins and carbs you need after an intense workout.  No artificial flavours, no unnecessary ingredients, no sh*t.
After an intense workout, your body needs both protein and carbohydrates to kickstart recovery. Great-tasting, stomach-friendly Nosht Recovery Mix is perfect after functional training, rough ice hockey matches or tough endurance workouts.
Our Chocolate Recovery Drink Mix is made with high-quality whey protein isolate. One portion includes 20 grams of protein and 31 grams of carbohydrates. Mix with cold water in a blender bottle, shake well and enjoy!
Nosht Recovery Mix is developed and manufactured in Finland. It's easy on the stomach, contains only natural flavours and tastes so good you want to drink it every day.
Nosht Recovery Drink Mix Powder: Chocolate
Ingredients: Whey protein isolate (from milk), palm sugar, cane sugar, cocoa powder (20 %), lactose-free milk powder, flaxseed powder, rock salt, emulsifier (sunflower lechitin)

Nutritional value:

 
Per 100g
Per portion (65g)
Energy (kJ)
1635
1063
Energy (kcal)
391
254
Fat 
7g
5g
   of which saturated
4g
3g
Carbohydrates
47g
31g
   of which sugars
46g
30g
Protein
31g
20g
Salt
0.8g
0.5g
Lactose
0.4g
0.3g
Potassium
1176mg (59%)
764mg (38%)
Iron
4.7mg (34 %)
3.0mg (21%)
Calcium
209mg (26%)
136mg (17%)
Phosphorus
252mg (36%)
164mg (23%)
Magnesium
138mg (37%)
90mg (24%)
Vitamin B12
0.8μg

 (32%)

0.5

μg

 (20%)
 *of the daily recommended intake
Read more on recovery drinks in our blog!

Check out our 100% plant-based Peanut & Chocolate Recovery Drink Mix!  
Maistuva suklainen palkkari
Hyvän makuinen ja tehokas palautusjuomajauhe! Uus suosikki ehdottomasti!
Paras!
Ehdottomasti parhaimman makuinen palkkari mitä olen koskaan maistanut!
Hyvä maku
Hyvänmakuinen sekä vatsaystävällinen.
Yksinkertaisesti maukas
Ihan paras palkkari, maku hyvä eikä liian makea - juuri täydellinen!
👍🏻
Maukas ja helposti liukeneva